In this article we will discuss what smartphone specs do I need for my online classes
The crisis ensuing in 2020 forced many students and their parents to look for suitable smartphones that would be capable of handling long-stretches of online classes specs seamlessly. With schools and colleges shut down, education migrated to the online platform, mostly to video calls. 
Best Smartphone specs for my online classes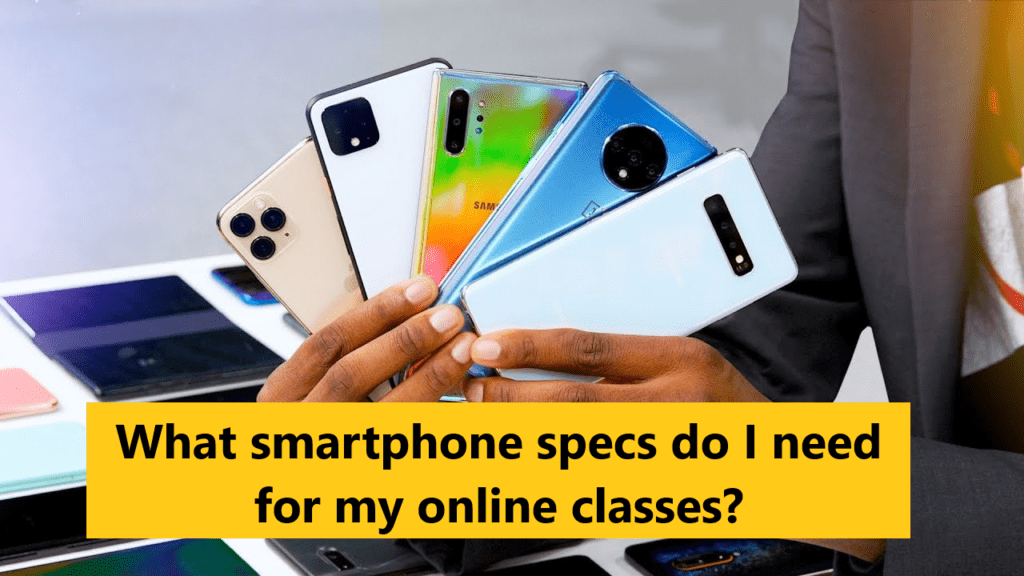 If you are currently looking for the best mobile under 20000 to attend online classes, listed below are some features or specifications such devices must sport for a seamless user experience.
Exceptional battery life
Classes can last for long stretches. Thus, the device you choose should be able to sustain its charge for the duration of these class activities. Ensure that your smartphone packs a battery with at least 5000mAh capacity or more. Otherwise, the handset may switch off due to lack of charge during an ongoing class.
Fortunately, some of the best mobiles under 20000 possess such batteries underneath the hood. Some of these phones also comprise battery-saving facilities, which reduce cell consumption of background applications and programs.
Read more: – Best Mobile Spying App to Find out Your Teen is a Gambler?
Fast-charging devices
Schools and colleges offer a short break between online classes, during which time students can pursue other activities and prepare for the next class. This is also the ideal time to place one's smartphone on charge to ensure that the battery does not run out midway through his/her next class.
With fast charging facilities, some handsets are capable of recovering a significant amount of charge to their batteries in 15-20 minutes. Thus, opting for a handset with this specification can be handy for students. Alternatively, you can invest in a power bank if your device does not support quick charging.
At least 6 GB RAM
RAM represents the actual memory that a smartphone can use while conducting various operations and activities. Video calling applications are generally burdensome on handsets with limited RAM capacity. Today, a 6 GB RAM phone is necessary to attend such online video classes without technical interruptions, such as freezing or hanging.
Once again, customers have a wide array of options when choosing the best mobile under 20000 with such high RAM specifications. Higher-end devices may sport 8 GB or 10 GB usable RAM as well. However, they generally sport a premium price tag. Fortunately, Bajaj Finserv Network EMI Card users can afford these expensive smartphones, thanks to the card's no-cost EMI facility. One can, in fact, utilise credits of up to Rs.4 lakh with this financing option.
The financial institution also brings pre-approved offers on this card that facilitates faster and easier applications. These are also available on products, such as personal loans, business loans and more. You can check your pre-approved offer by submitting certain details like your full name and phone number.
High-quality camera
Attending classes online would require students to participate using their phone's video calling facility. A high-quality front-facing camera is essential in such a situation. Look for a device, which comes with a 20MP selfie lens. This will facilitate better streaming quality during video calls.
Best gaming phones under Rs 15000 for playing PUBG
A clean and crisp display
The smartphone display also matters significantly, especially when it comes to learning on it. A teacher may explain theories in writing, but due to a low-resolution display, students may miss these texts during video calling. Always opt for Full-HD screens or ones with higher resolution. However, Quad HD display devices may not be available at budget prices.
Bajaj Finserv EMI Network members can finance such high-end purchases through their EMI cards. One can take advantage of this option by walking into any one of the 1 lakh+ outlets across India. Doing so will prevent budget concerns from depriving your child of quality education even in these trying times.   
This is the best online classes specs if you knew some others please comment it below.