Best Mobile Spy App to Find out Your Teen is a Gambler? – Cellphone technology without the shadow of a doubt is one of the biggest inventions of the last century. It is not less than a blessing for mankind but at the same time, it is a headache for parents who used to see kids are sticking with mobile and internet connection. Apart from watching adult content, social media addiction, and online dating, your teens could be a gambler. Over the years gambling has become a norm in society and children are second to none.
Most of the teenagers are always trying for plenty of different gambling activities likewise, poker, dice, scratch cards, and other kinds of sports betting. These kinds of activities often put them into risks because of losing from someone and they have to pay for the bet.
Also, View: – Why Is Online Medicine Store Best Option For The Elderly?
It also causes them a gradual loss of control issues over gambling behavior. Parents can get to know about the gambling activities of teens using the best mobile spying software. It empowers you to know about kids playing online games using credits cards and stuff like that.
Best Mobile Spy App to Find out Your Teen is a Gambler?
According to the stats:
Almost 4 to 5% of youth aged between 12-17 get involve in gambling problems. In addition to that, 10 to 14% become gambling addicts and they show the signs of loss of control over gambling behavior. Young males are more addicted to this curse than female teens.
What is the mobile spy app?
It is a high –tech tool that empowers you to know about the digital and real-life activities of teens. You can install it on your teen's cellphone device and activate its web portal to navigate its powerful features to know the secret activities of teens on the web and in real –life.
 You can record live phone calls, read text messages, record screen, and multimedia sharing on social messaging apps, GPS location, IM's logs, and many others alike. The application is user-friendly that enables you to use it without facing technical issues. However, you can get further detailed information by using its customer service.
Compatibility:
It is fully compatible with all kinds of cellphone devices running with Android OS and you can use it on the latest version of Android OS 10 and the above versions.
How to get a mobile spy app?
If you have suspicions that your credit card has compromised plenty of time, then it could be your teen involved in gambling. You can use TheOneSpy by visiting its official webpage and you can subscribe to cell phone spy software. Furthermore, you can get the credentials via email. In addition to that, you can get physical access on the target device and activate it on the target device. Now use the credentials and get access to the online control panel where you find out plenty of tools that can spy your child gambling activities on cellphones using your credit card or in real –life. Let's get to know how you can do that!
Use mobile phone spying software Features to know your teen is Gambler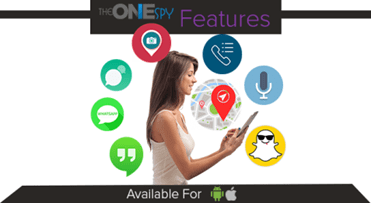 Call recording
You can record live incoming and outgoing cellphone calls and listen to the recording to know whether teens used to talk about gambling with friends at some kind of bar or school. Moreover, you can save the data on the web.
GPS location tracking
After the confirmation you have made that your teens are gambler through call recording, you can also track the GPS location of teens and get to know about the hidden whereabouts. Once you have got to know you can catch your teen while gambling with friends.
Live screen recording
The live screen recording software is the best tool for you to know whether your teen is playing online games for gambling or not. You can record short videos of the screen and then send the videos of the screen to the online dashboard. It records short back to back videos in a series that you can watch using an online web portal and get to know about the reality.
Read Text messages
You can read the text messages sent or received on teen's cellphones that can tell you plenty of things about their gambling activities.
Conclusion:
TheOneSpy mobile spying software is the best tool that can tell you whether your teen is a gambler or not. You can remotely get spy on the cellphone device and you can upload all the information floating on their device. Moreover, you can listen to the surrounding conversation of teens while they are hanging outside with friends.