Among all the headlines regarding the NSA's internet spying program, the common people are becoming frequently concerned regarding their online privacy. So do you know who is spying on you and how to make them stop?
The number of democracies who don't spy on their peoples electronically is growing frequently smaller every time, you also be getting watched by hackers, boss, isp, adware, malware, and many more. There are a lot of people keen to look at your activity online.
When it comes to defending yourself, you require its solution.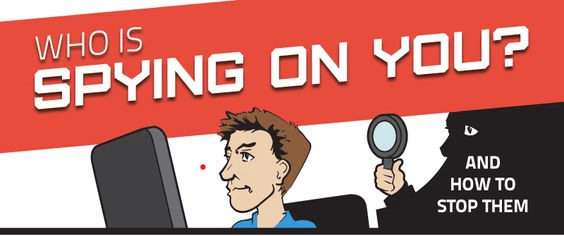 Who is spying on you and how to make them stop
First we will tell who is spying on you and last how to make them stop
Suggested: –8 reasons why my site is not ranking on google
Who is Spying on You?
1. Privacy treats at home
a. HOME WiFi ROUTERS ARE EASILY HACKED
A recent study found that the home wireless routers might have been hacked and you don't even know it. By using a technique DNS (Domain Name Server) hijacking, hackers can break the security of your home Wi‑Fi and maybe expose your private info, it gives criminals the opportunity to trade illegal information over your wifi connection and cause you numerous harm. They can redirect your traffic to a web­site by causing you to ignorantly give your Facebook login or credit card number credentials to a criminal.
Thankfully, you can verify if your home net­­work is secure by using a web-based and free online router service. Make sure you select the service from a trustworthy cybersecurity brand. Also, make your password strong.
b. YOUR ISP IS SPYING ON YOU
Your ICP (Internet service provider) tracks whatever IP addresses you contact, which completely means they know the websites you are visiting. They can also read anything, you send over the Internet that is not encrypted.
How can you protect yourself?
First, comprise any technology that encrypts the information for its Internet travel. If you need privacy, use Secure Socket Layer (SSL)( secure web pages with URLs starting with https) or a virtual private network (VPN).
2. YOUR BOSS MONITORS YOUR BROWSING
a. YOUR EMPLOYER MAY BE SPYING ON YOU
Employers can monitor your online activities and mining the data of their workers, generate to figure out what they're up to, and with whom. There's almost nothing you can do about it.
b. YOUR PERSONAL DEVICES ARE NOT SAFE
Even when using Vour personal devices, Employers can spy on your Internet use.
c. BLOCKING ACCESS
They can even block you from accessing popular sites like Facebook, quora and many more.
Also view: – How to speed up internet in mobile
3. HACKERS LURK IN THE CORNER AT COFFEE SHOPS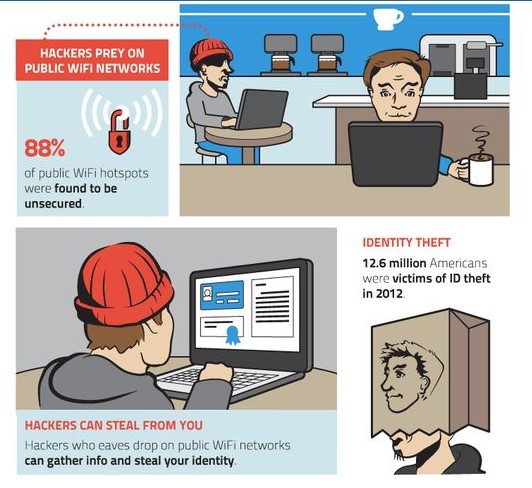 40 percent of organizations believe that C-level executives, including the CEO, are most at risk of being hacked when working outside of the office, According to a new report of any organization, Cafes and coffee shops were ranked high-risk venue by 88% of respondents, from a list also including airports, hotels, exhibition centers, and airplanes. The hacker who eavesdrops on public Wifi networks can gather info and steal your identity. Most of the peoples are hacked because they connect to public WiFi hotspots were found to be unsecured.
How can you protect yourself?
First of all, don't use public hotspots or WiFi. In case it is necessary, use only secured network
4. ADWARE/MALWARE/SPYWARE THREATS
a. LEAVING A TRAIL OF CRUMBS
Most of the websites could drop cookies on your computer when you visit and track your overall online user activities log or by browsing history and create a profile of your in their database.
b. WEBSITE OPERATORS SELL INFO
Your online history is sold to organization and advertisers so they can target you with ads.
c. MANY COMPUTERS ARE INFECTED BY MALWARE
In short, malware can wreak destruction on a computer and its network. Hackers use it to delete files, steal passwords, and render computers inoperable. A malware infection can make many problems that affect the regular operation and the long-term security of your company. Some of the many things malware can do.
Slow Your Computer
Steal Your Sensitive Information
Restrict Access to Your Files
Disrupt Daily Operations
HOW CAN YOU PROTECT YOURSELF?
1. USE ANTIVIRUS PROGRAM AND KEEP IT UPDATED
Always use updated antivirus software and regularly keep your operating software updated for security patches. Updated software can recognize the latest threats to your privacy and security and delete it.
2. SAFEGUARD YOUR PERSONAL INFORMATION
Be careful What you share online and Who you share your personal and sensitive information with. Sharing too much personal information online makes you an easy target.
3. USE A VPN SERVICE (Hotspot Shield VPN)
VPNs (Virtual Private Networks) protect your privacy and identity online by encrypting your internet traffic and masking your IP address.
4. CREATE STRONG PASSWORDS
Create a long password (9 or more characters} and include a combination of lower and upper case letters, numbers, symbols, and punctuation marks. Do not use any well-known information as part of your password
5. MANAGE YOUR COOKIES
Clear your cookies. Certain cookies track your online activities. Your information can then be sold to advertisers without your consent. Remove or delete unwanted cookies from your browsers regularly to protect your privacy.
Source: – venturebeat
If you have any problem related to who is spying on you and how to make them stop comment it below.