There comes a time in nearly every computer user's life when they need a file from their PC and the PC isn't nearby. Fortunately, there's an easy way to remotely access your PC directly from your phone or tablet. Before, how to remotely access pc from android phone, we should know how it works and Which software helps us to do it.
What is VNC?
In computing, Virtual Network Computing (VNC) is a graphical desktop sharing system that uses the Remote Frame Buffer protocol (RFB) to remotely control another computer. It transmits the keyboard and mouse events from one computer to another, relaying the graphical-screen updates back in the other direction, over a network.
How to remotely access from android phone
Step 1: Download the VNC server and install on your computer.
The first step is to Download the VNC server and install on your PC and open it. If you don't know, follow the steps below.
How to install a VNC server on your PC?
Go to VNC server by clicking here. You see this Download VNC server by clicking on the Download button.
Once the download finishes, run the file. If you're running antivirus software on your PC, you might get a warning like this, Simply click on YES.
Once you get through all of the prompts, you should see the standard installer screen.
Click next to continue.
Accept the term and condition and click next.
If you want to change the storage or make it default and simply click on Next.
Simply click on Next.
Click on ok.
This is the main page of the VNC server.
Step 2: Setup VNC server.
Go to the option which is a box red in color.
Go to option -> Licensing
Give details and sign up.
Confirm your email address-> Go to email and confirm.
Come to here and type an email address that you create now.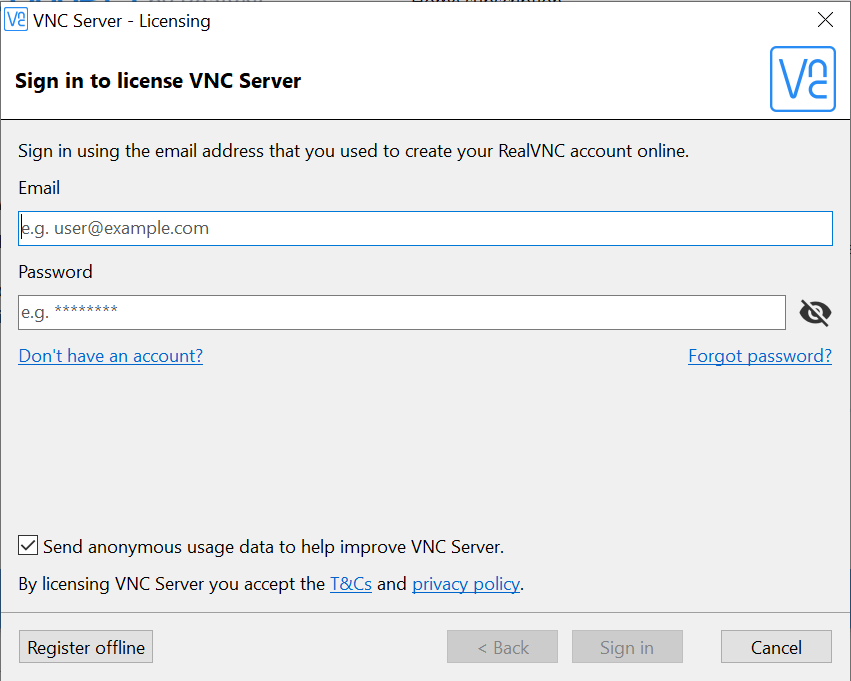 After writing an email address, select to the sign-in button.
Select on Home subscription to simply use, otherwise, you can also go for a 30-day trial.
Select on the Done button.
To can see a green tick mark on the right-hand side means your email address is verified.
Go to option -> option-> User & permissions click on it.
Type different password here. You can use this password on an Android device when you open pc set in the device.
Step 3: Setup in Android Device.
Goto Android Devies->Playstore-> VNC Viewer.
The first look of VNC viewer.
Option and sign in. Sign in to the same account that you have created first.
Now here, you can check your pc name. Click on it.
After clicking you can see your pc name and signature. Now click on continue.
This password you have to type here.
Now you can see your PC view in your Mobile.
In this, you can able to see many options that are provided by VNC.
This way you see the setup of VNC. I found this tool useful because it is speedier and more effective and simple to connect.
Also View- Best android apps all the time
Also View:- How to Install a Bitnami WordPress.