In this blog, we will show you the best android apps all the time for your android devices which works without rooting your phone. This application uses personality, photography and security application which are absolutely unique.
Let us start with the best android apps all the time
1.Stun Zooper 4
Best android apps all the time:- It is the most unique app for supervision gives this look on your android devices. As you can see this simple home screen setup gives an idea about customization, which can achieve with the help of Stun Zooper 4. So in order to get this app on the here for free and download it. Once you install you get various types of a widget in the widget section which you can apply on your home screen which looks amazing now to tune up your home screen in a much better way. It also gives various types of stuff like icon sets fonts. The addition you get some great wallpaper which soots the best with the widget. It has got some various wallpapers are with very high quality so do give a try on your android devices.
Download stun Zooper from here.
Download stun Zooper widget from here.
2. Loopsie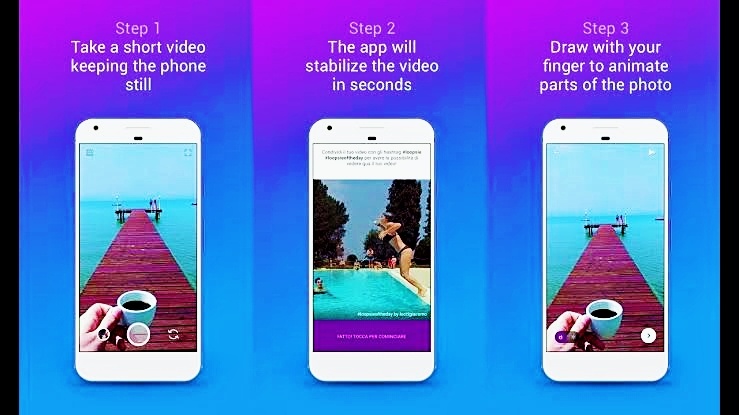 This is one of my favorite camera application these days because it can take cinematography now you might be wondering what is a cinemagraph. Cinemagraphs are still photographs in which a minor and repeated movement occurs, forming a video clip. They are published as an animated GIF that can give the illusion that the viewer is watching an animation.
So the application UI is pretty basic so let you take a photo, but before taking a photo make sure that something needs to be moving in your photo in order to make a cinema graph. After taking this photo it will analyze and process for making it an editable cinema graph, and here we have some option like animate freeze and a loop button on the top right-hand corner now while animate is selected if any part of the picture was moving while taking the photo you can draw that part to make it move.
Download Loopsie from here for free .
3. Dumpster
So the dumpster is a very useful application for every Android user. As it's some kind of trash, which can be the most useful trash can for your Android phone. It's like a 2-step  verification each and every file which you delete from your phone. Now accidentally if you delete any photo from your device permanently then you can recover that particular photo back to your gallery with the help of this cool app called dumpster. Now from the app let us get into the gallery and delete some photos we'll even delete these photos from the trash option of Google Photos app now we know that the photos are permanently deleted,  but no guys, it's still there in a dumpster from where you can recover these photos back to your gallery if you had accidentally deleted these photos You have to delete it from here it, Also you can get the premium version of dumpster which lets you automatically backup the files on your own private cloud drive.
Download Dumpster from here.
4. Spirly

Spirly is a live wallpaper application. Which you can get from the Play Store, download the application and over here you get some setting and themes. So we will be showing you some themes which are preinstalled. This is the live wallpaper that, can you apply to your Android smartphone which comes preinstalled on this application.
5. Camfind
Camfind is an application which is a very useful application. You can find any product by taking pictures. It will even show you some  other information like from where you can purchase the product and all other stuff. This application is really helpful. You can scan any product with the help of smartphone camera and you can get various information regarding a particular product. 
Download Camfind from here.
6. Mr. Phone search
In this application, you can search for any phones and you can also compare it to other phones. Instead of the application, you get a search tab over here wherein you have put in the name of the phones you want to search for and you get all relevant information about the device. You can check out the specs, stories, reviews, microns or tap on buy and get to those websites from where you can buy this particular device.
You also get a comparable option. Here you can just tap on it and you can enter the phone name and tap on the plus icon. Add the second product and over here this app provides you the full comparison between those two devices. You also get a phone finder option wherein you just need to put in the name of the brand you prefer the OS the RAM and also providing other relevant information over here and just tap on the tick mark and this application will find the perfect phone based on your preferences.
Download Mr Phone search from here.
7. Live wallpaper Loops
This is a very cool live wallpaper application. Once we install this app from Playstore you just need to get into it. Here you will get lots of live wallpapers. You can select any category you want from here and over here you can see under the category we have few awesome wallpapers which are all life. Now there a unique feature to this application which is that you can upload any gif you want and this application will help you to transform it into a wallpaper. Now, once you selected a wallpaper you can customize the size of the wallpaper also.
This is the Best android apps all the time in 2020. Hope you like it.
Also view:– How to unlock the bootloader of Moto G5s plus(Sanders)