In this article we will see some of the Flag Printing Errors That Can Destroy Your Marketing Campaign
Custom flags and banners are an essential component of any marketing strategy. These marketing aids are frequently seen in shop parking lots, along streets, on lawns, and on pedestrian pathways, among other locations. They are incredibly effective at introducing new companies, goods, and services to customers.
Several types of businesses profit significantly from flag printing services like local gymnasiums, eateries, community retail stores, street-side promoters, local automobile dealers, event management firms, etc.
But custom flags are only efficient in attracting customers to businesses if their designs are stunning and flawless. 
Marketing for small enterprises entails utilizing minimal resources as they work on a low budget. It means that small business owners have little room for mistakes when drafting the printing information and design of the marketing flags. The following are some of the most prevalent flag marketing errors that small firms must avoid.
Some of the Flag Printing Errors That Can Destroy Your Marketing Campaign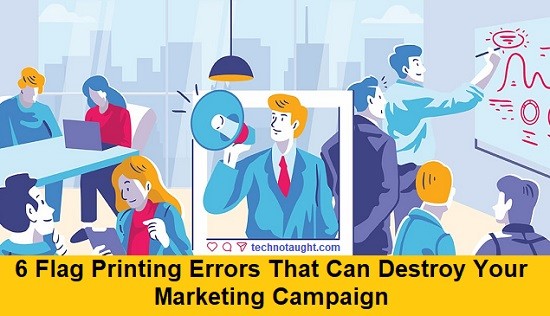 1. Limiting your flag selection to rectangular and square shapes
Rectangular and square-shaped flags are commonplace. That is why they go unnoticed by the public. It's a good idea to have some of these regular-shaped custom flags in your marketing arsenal. However, business owners must occasionally vary their style and decide to use –
Feather shaped flags
Teardrop flags
Shark fin flags
Triangular
Beach flags
These flags with unique shapes will pique your audience's interest far more than a standard rectangle and square-shaped flags.
2. Overcomplicating the design
You will always find reputable companies using simple flags with less intricate designs. That is because flags are intended to be observed from a distance. And flags with excessive lettering are difficult to distinguish from afar. They barely attract the interest of onlookers. Include only a few lines of text on your custom flags. Create simple but eye-catching personalized flags for your brand by adhering to a minimalistic styling.
Read more: – Top Cost-Cutting Techniques for 3D Printing and CNC Machining
3. Failure to emphasize the brand
Numerous firms make the error of incorporating an excessive number of colors and pictures into their custom flags. These graphic aspects are necessary but not as much as your brand name, emblem, and other important details. Avoid employing font styles or colors that are inconsistent with your brand's identity.
4. Excessive text
Use no more than ten-word lines. That is the unspoken norm of outdoor advertising. Incorporate a minimal number of images, texts, graphics, and symbols. The simpler the design of the flag, the greater the influence it will have on target audiences. Your marketing flags should ideally convey your brand messages in less than ten seconds.
5. Not restricting the flag's colors
Custom flags should only have two to three color combinations. Colors should be easily distinct from one another, appropriate to the overall style of your branding, and apparent from a distance. Otherwise, your custom flags will appear disorganized and aesthetically unpleasant.
6. Omitting vital business information
When discussing flag designing strategies, it's easy to overlook that marketing flags serve a purpose. Remember, your promotional flags should persuade customers to contact your business. Although you should keep the content on your custom flags to a minimum, it is essential to include some business-related information. Including the link to your company's website or the contact information is the most desired info an interested would-be client will search for.
Conclusion
Avoiding these marketing errors will enable you to maximize your results by using custom flags as one of your marketing tools.