In this tutorial, We will learn Aws sign up from scratch.
What is AWS used for?
Amazon Web Services (AWS) is a secure cloud services platform, offering to compute power, database storage, content delivery, and other functionality to help businesses scale and grow. Running web and application servers in the cloud to host dynamic websites.
Aws sign up || registration
Click on the Create a Free Account on
Step 2:- Create a new AWS account
In this form, you have to type your Email address and Password. Make sure you don't forget your email and password
Important: Be sure that you enter your account information correctly, especially your email address. If you enter your email address incorrectly, you won't be able to access your account. If Create a new AWS account isn't visible, first choose Sign in to a different account, and then choose to create a new AWS account.
Enter your account information, and then choose Continue.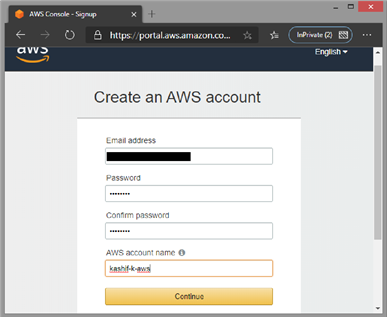 Step 3: – Provide contact information
Choose Personal or Professional.
Note: Personal accounts and professional accounts have the same features and functions.
You receive an email to confirm that your account is created. However, you can't use AWS services until you finish activating your account.
Step 4: – Provide payment information
Provide payment information (Debit/ Credit card details) and then choose Secure Submit. Make sure it doesn't allow Rupay card, Rest of all it accepts like visa, Mastercard. It takes 2Rs charge for registration.
Step 5: – Confirm your identity
Choose whether you want to verify your account by Text message (SMS) or a voice call.
Confirm your identity by providing a mobile number to contact and then verifying using OTP.
Step 6: – Select a support plan
Select a support plan, in our case of free tier we will choose Basic Plan.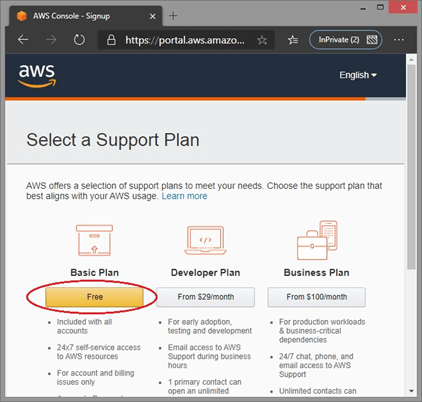 After you choose a Support plan, a confirmation page indicates that your account is being activated. Accounts are usually activated within a few minutes, but the process might take up to 24 hours.
When your account is fully activated, you'll receive a confirmation email. After you receive this email, you have full access to all AWS services.
Step 5: -Sign in to the console of AWS
Step 6: – This is your dashboard.
Learn How to: – How to connect ec2 instance using putty
Learn How to: – AWS ubuntu setup || launch an AWS EC2 Server
Let us know in the comment section if you have any problem related to Aws sign up