Before, Installing WordPress With Bitnami Locally on Windows PC, we should know what is WordPress and Xampp.
What is WordPress?
WordPress is the simplest, most popular way to create your own website or blog. There are many Websites on Internet which is powered by WordPress.
WordPress is a free and open-source content management system based on PHP and MySQL. Which means that anyone can use or modify the WordPress software for free.
WordPress makes building a website accessible to anyone – even people who aren't developers.
What is Bitnami?
Bitnami is a library of well-known server applications and development environments that can easily be installed with a one-click option. It is easy to configure this application and its components so it works properly. Bitnami basically provides you an application environment that further lets you install and run hundreds of distinct open source applications such as WordPress, Joomla, Drupal locally on your Windows computer as well as Mac devices.
Installing WordPress With Bitnami Locally on Windows PC.
Step1: How to Download Bitnami
First, go to this bitnami WordPress. 
Second, Click Win / Mac / Linux.
Click on Download for Windows.
Wait Some time. File: -144MB. After Download, Click the file to Install.
Step 2: Installing WordPress With Bitnami
Setup Display.
1. Select Language English.
2. Click next.
3. Click next.
4. Select the Path Where to save and Click next.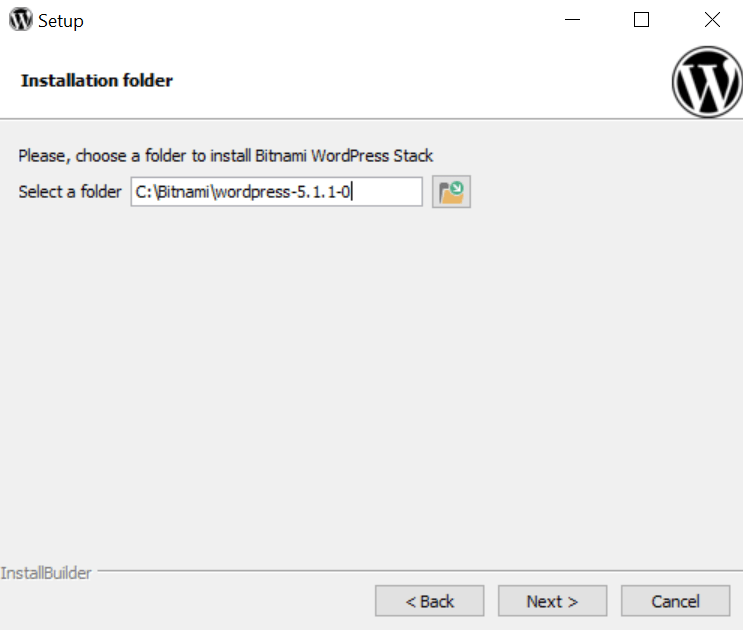 5. Fill Data
1. Write your NAME.

2. Write your Email Address.

3. Write Username / Login -> it should be Easy.

4. Write Password Whatever you want.

5. Rewrite Password.
6. You can Write your Blog name as per your choice and click next.
7. Ask for Email support.
If you want to write then write other wish leave it and click next.

8. Tick on launch and click next.
9. It is the last step of Installing, Click next.
Wait some Minute………… Till it Finishes.
After install, click finish.
This is open by this, you visit File/Folder of your WordPress
Click on Access WordPress to visit the site.
This is your site.
Note
• Don't forget your IP (127.0.0.1).
   Because when you log in you require this in the URL.
Step 3: Return to the site again
Search in your PC -> bitnami WordPress
Open it.
Now go to chrome in URL type ->Type on Go to Application also you can do IP/WordPress/login
For Eg> 127.0.0.1/WordPress/login and Enter.
Your login page appears.
Types username and password and submit.
Now your site is open and you are ready to edit.
I found this tool useful because it is speedier and more effective to create the best websites as compared to xampp.
Also View: – How to Install XAMPP and WordPress Locally on Windows PC.
Also View- Best android apps all the time