In this article, we will be going to see the best Windows 10 remote Desktop Software
Which remote control software is best?
"I am an owner of a start-up firm. Recently, the weather goes crazy hot and I want to ask my employees to work from home. I'm planning to find the best remote desktop software for my employees so that they can access important files in their Windows 10 office computers if they actually work from home. I wonder which remote control software is best?"
Remote desktop software enables you to access your home or office computer as well as its files from a remote location as if you were sitting in front of your PC rather than somewhere else entirely. No matter you're using it for personal or business use, it can help improve efficiency greatly
What makes the best Windows 10 remote control software? 
Then what makes the best Windows 10 remote control software? The best remote desktop software for Windows should have the following characteristics:
Easy to use. It needs to have an intuitive interface and simple operating steps, making it easy for everyone to use, including people who are not very skilled in computing.
Secure. It must prioritize security, protecting users' confidential and sensitive information from leakage.
Compatible. As the best remote desktop software for Windows, it must be compatible with a wide range of Windows versions, from Windows 7 to Windows 11.
Fast & stable. It must provide users with fast and stable remote connections between computers that are not frequently disrupted.
Free. It would be preferable if remote desktop software provided all of the benefits listed above while also being free of charge.
Read more :- Tips to enhance and improve your digital marketing
The best Windows 10 remote control software: AnyViewer
AnyViewer is the best free remote desktop software for Windows 10/11 that has all the above-mentioned characteristics. Besides, it also provides users with the following additional features to improve efficiency:
File transfer. You can transfer files between computers, including text files, zip files, picture files, and so on.
Multiple sessions. It supports remote connections from one computer to multiple computers at the same time.
Multiple screens. It supports Windows remote desktops with multiple monitors.
Step 1. Download, install, and launch AnyViewer on both Windows computers.
Step 2. On the Controller computer, click Sign up on the Login page. (If you are already registered, you can simply click to log in.)
Step 3. Fill in the sign-up information.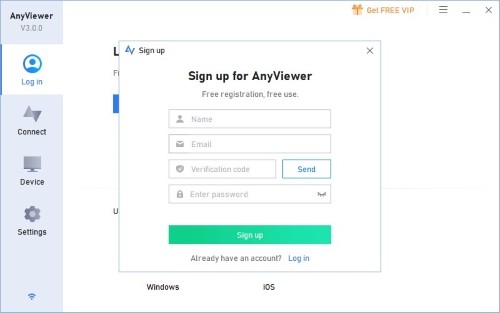 Step 4. Then you can see that you have successfully logged in AnyViewer. Don't forget to log in to the same AnyViewer account on the Recipient computer.
Step 5. Choose your target computer, and then click Remote control to achieve unattended remote access. After this, you'll successfully connect to the target computer and start to control it.
Note: It is highly recommended to upgrade your account to a professional or enterprise plan so that you can get:
More assigned devices. You can only assign 3 devices for a free account, but 10 for a Professional account and 100 for an Enterprise account.
Privacy mode. You are allowed to access the remote device by blacking out its physical screen and disabling the physical keyboard of the remote device to keep privacy and safety.
Faster file transfer speed. Transfer speed for a free account is 500 KB/s, and for a paid account is up to 10 MB/s.
Read more: – How to remotely access pc from android phone
Closing words
The primary goal of this post is to introduce the best remote access software windows 10. In this post, AnyViewer is highly recommended for two reasons.
On the one hand, it has all the characteristics that the best Windows 10 remote control software needs to have, for example, fast, easy, secure, etc. On the other hand, it has some additional features, for example, file transfer, multiple sessions, and multiple screens, helping improve efficiency.
No matter whether you need a remote desktop tool for personal or business use, AnyViewer can be your best choice.