How to recover deleted photos, recover deleted videos, recover deleted pdf files, word document files, PowerPoint files from computer hard disk, this blog shows you can easily recover any kind of deleted data from your computer, laptop, hard drive, memory card, Pen drive, phone storage, SD card. This is a free way to recover deleted data, even you can recover deleted data from corrupt memory card Pendrive and hard disk this is a simple easy and best way to recover data for free.
Lets us know how To Recover Deleted Photos, Videos, Documents.
By using Recuva Software we can recover all the files, picture, documents. So to download this click here.
Download and run the Recuva program on your windows.
How to install Recuva on windows.
1. This is the Setup screen, this helps you to install the software.
Click on install button.
Wait some Minute.
So lets us start by clicking on Run Recuva button.
This is the Welcome screen.
Here, you select what type of files you want to recover and simply select the next button.
Here, you select where you have to search the deleted files.
Simply select start.
Wait some minute.
The red box shows the path which you can change.
The blue box shows the path of files like photos, video, documents, email, etc.
The brown box shows the options menu.
An "option" button available where you could select various options like language, view mode, Action, Advanced, Drives, secure overwriting and other scan options.
The yellow shades part is recover button, you can click when all the setup is done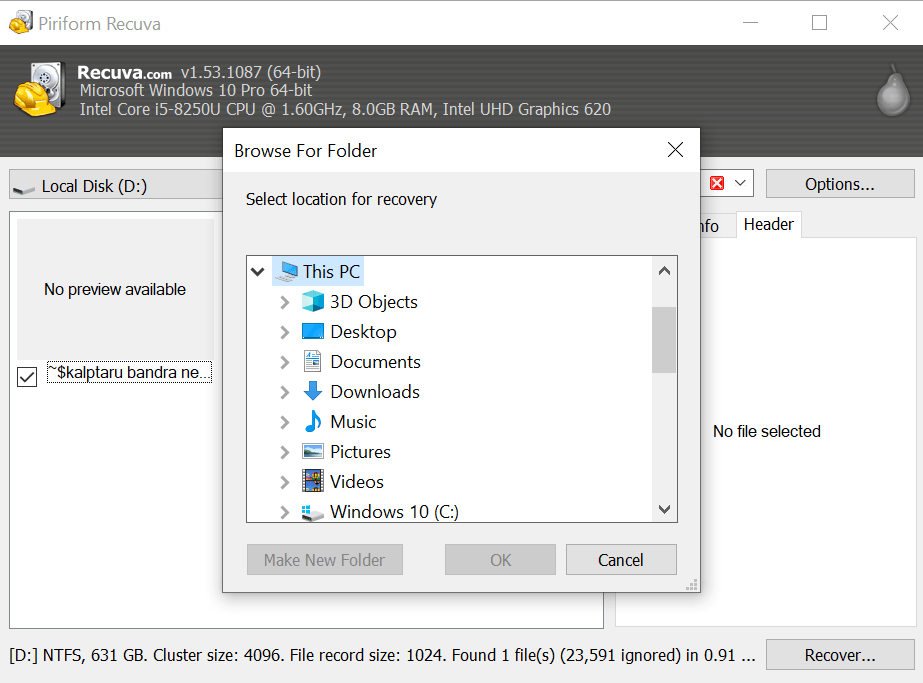 Select the folder where you want to recover your file. After selecting the appropriate location, click the OK button.
This way you can use Recuva to recover deleted files. I found this tool useful because it is speedier and more effective than other similar utilities.