In this article we are going to see how the image to text converters can help the students in assignment writing and suggest best 3 tools to convert image to text.
A student is probably aware that an assignment is a nightmare to complete. Writing assignments are usually a tough aspect of students' college and university experience.
To be honest, it is a must for every student to complete and pass the tasks; otherwise, we would be wasting your time and money in your educational careers.
However, one thing we can do is take advantage of an image-to-text converter.
The fact that our globe is growing more advanced day by day means that our educational system is changing for the better.
So, why not take help from technology to complete our tasks at time?. This article is specially written for you if you don't know about the image-to-text converter.
What is an image to text converter?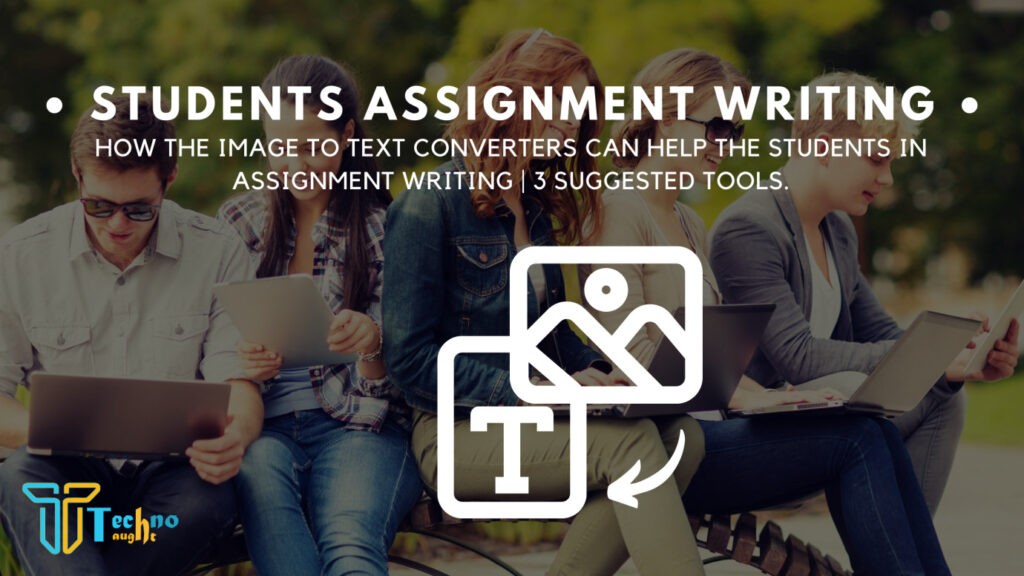 An image-to-text converter is online software that will extract text from an image and convert the image into digitized or editable text.
When retrieving text from a printed page or image or screenshot, the image to text converter is used to do this.
These tools are based on "OCR," technology which stands for optical character recognition.
This technique detects the text in a document that has been handwritten or printed.
It is possible to convert a picture into a computerized document with the use of optical character recognition, or OCR.
It will scan the image and convert the text of the image into editable text, and after, you can share, save or download the document.
How do image to text converters help the students?
As we know that online technologies have made our lives easier in the last several years, allowing us to do tough tasks in just a few minutes rather than hours very easily.
There are several reasons why image to text converters will be useful for students while they are writing their assignments.
Here we will discuss how the image to text converter helps a student in writing assignments.
1. Create editable text
An assignment is always considered a rough draft until it has been approved by the teacher, which means you may need to make changes to your assignments many times.
We may conclude that writing tasks on your own or handwriting assignments are not a suitable option since they cannot be changed more than once.
However, while preparing the assignments using an image to text converter, you have the option of making the assignments editable.
Furthermore, after you have completed an editable assignment, you may revise it as many times as necessary to comply with the requirements of the higher authorities.
2. Save Time
Is it simple and easy to write assignments or to do tasks on your own? It doesn't matter if it is simple or difficult; one thing is certain: writing assignments by hand may be a time-consuming task.
There are numerous things that students must do in a short period of time, so spending hours while writing assignments is not a practical alternative most of the time.
Image to text converter is the most convenient alternative if you want to complete your assignment in seconds.
 It's just a copy-and-paste game since an image-to-text converter asks you to upload a picture before converting it into editable text on the other end. So, in this way, students can save their time easily.
3. Increases Productivity
As we already explained, applying an image to text converter will save you time and allow you to do many jobs in a shorter amount of time.
It goes without saying that when you use this incredible tool, you won't have to read books, highlight the most important parts, or do any other required things.
Image-to-text converters allow you to snap a photo of the area where you want to insert text and send it to the converter to make it editable.
 All you have to do is click a photo, and you'll be ready to turn it into editable text. In this way, students can increase productivity.
4. 100% Accurate & Error-Free Result
The significant benefit of using this technology is that it eliminates the possibility of human mistakes. As human beings, we all make errors that have various effects on our lives. So, when a person wants to complete his assignments in no time, he makes many mistakes.
To cover this problem, you can utilize the assistance of these image-to-text tools to produce error-free assignments with accurate outcomes, allowing you to stand out from the crowd.
5. Convert PDF into Word documents.
It is necessary for us to convert PDF files into word format in our professions, companies, and academic careers, which seems like a very tough thing to hear at first.
But the reality is fairly smooth and simple. In order to keep this aspect in mind, we may utilize image to text converter technology to convert PDF files into word format without encountering any difficulties.
6. Organized Data
An image-to-text converter is not only for converting images into editable text but also provides you with data in an organized form.
So from this tool, you will learn that you can arrange the scattered and hazy information you get from images or screenshots to meet your specific requirements.
A nice feature of OCR-based technologies is their ability to transform the text on a picture into the language of your choice, which is very useful for students.
Read More: – Free images no copyright top 8 sites for download
3 suggested Image-to-text converters
Typing up text from images is a time-consuming and frustrating process for students. Writing assignments are more challenging when text is given as an image or in another format that cannot be selected.
The only solution is to use the best image-to-text converters. Here we are going to discuss 3 highly suggested image to text converters for students.
This is the first suggested image to text converter, a web-based free online OCR tool that turns any image into editable text in a matter of seconds. Moreover, It presents accurate results. In order to extract text from images, it employs optical character recognition (OCR) technology.
You can take a picture of your class notes, screenshots of a WhatsApp status, an Instagram story, a Twitter feed, or even a Pinterest board and turn it into editable text, and after that, you can save it also. Most significantly, you don't have to worry about the picture's format. JPG, JPEG, JPG, JIF, PNG.TIFF, etc., while using an online image to text converter.
How does it work?
Firstly you can easily copy and paste images or screenshots in the image box of this software.
If you don't know how to convert a jpeg or png to text, you don't have to do much to copy text from a picture. It's as simple as following these instructions.
You may either drag and drop or upload your picture.
In the event that you have got a URL for the picture, you can also use it.
After that, go and click the Submit button.
You may copy the text using the clipboard or save it as a document.
Silent features
It's completely free to extract text from photos or images. You don't have to spend a penny to exclude content from your required image. Users are not compelled to sign up for an account to utilize its service.
Based on Artificial intelligence (AI)
It took us a long time to find a solution worth the effort. A free program maintained by Google is used to assist students, researchers, and officers. Artificial intelligence (AI) extracts text from images with perfect results.
This image-to-text generator supports multiple languages. This implies that you may extract text in a wide variety of languages, including English, Spanish, Dutch, Italian, and so on.
Download the Text Document
You can download the text you have just created by using an image or screenshot. Use this file to customize the wording according to your choice. In addition, you may copy the text and then paste it into another document using the clipboard.
Images in a Variety of Formats
Dozens of picture formats are supported by this program. You don't have to be concerned about the image's format. Following formats are supported: JPG, BMP, PNG, and TIFF.
This second tool is presented by editpad.org. You can extract readable text from a picture using this image-to-text converter with a single click. It scans the image using the most current optical character recognition technology and extracts every single bit of text contained in the image. This image-to-text converter is ideal for scanning and extracting the needed readable text from a photo.
How does it work?
Using this online converter, you may extract the text from a photo by following the procedures shown below.
Drag and drop a file from your computer's hard drive.
Alternatively, you may provide the URL of the selected picture.
To extract the text, click on the Extract Text button.
The converter will take advantage of the most up-to-date OCR technology and create the extracted text report in seconds.
Silent features
It also has the following useful features that make it simple to extract the appropriate text from any image:
Using this text converter does not need the completion of any registration or installation procedures. It is absolutely free, and it extracts text from photographs in a matter of seconds after they have been uploaded.
PNG, JPEG, BMP, and JPG images may be uploaded with this feature, which also supports the uploading of videos. Users may also easily drag pictures from their computers into the application.
It is possible to extract readable text from images through URL, allowing you to get the needed text from any image on the internet.
If you submit an image into the converter with the following format: It scans the whole picture, extracts the legible text, and creates an accurate text report with the following format:
Make a copy of the result data.
This feature provides the option of copying the extracted text in real-time while the extraction is taking place.
3. Ocr.best
Ocr.best is a free online image to text converter. You can extract text from a variety of sources like mathematical equations, low-resolution photos, and many more. One-click is all it takes to download a word document or copy text from an image to your computer and save it on your computer.
It has the best features of converting an unlimited amount of images into text with no limitation every day. It also provides you with the opportunity to edit paragraphs and phrases and make changes to the overall structure of the text.
How does it work?
We are going to cover how you can use this top OCR online free application to retrieve text from photographs and how you may do so:
Image may be added to the input area by dragging and dropping it.
Alternatively, you may upload a file from your device.
Verify that the reCAPTCHA is correct.
Select the Convert option from the drop-down menu.
After that, the editable text will be sent to you.
You may either copy the text or save it as a docx or.txt file to your computer.
Salient Features
Free Online image to text converter
This tool is the most effective online image-to-text converter that converts images to text using artificial intelligence approaches.
With no daily restriction, you may convert an infinite number of images into text.
Support any kind of image
This free online OCR converter can extract text from scanned documents, low-resolution photographs, and even mathematical formulas.
You can save your report and download a word document or copy text from a picture with a single click.
Conclusion
There are a lot of factors that exert pressure on students throughout their educational careers, and assignments are one of these factors. Generally speaking, assignments are regarded to be among the most critical jobs a student must do, and they cannot be neglected at any cost. If you want to be successful, you have to do this work with care and precision.
Alternatively, you can use an image-to-text converter, which we discussed above in detail. Some of the advantages of employing this converter have been discussed above, and they may assist in writing assignments in no time with 100 % accuracy.
Above, we suggested three image-to-text converters, especially for students. You can choose according to your requirements.