The excitement sets in as you open your brand new laptop. You chose the best one that your money could buy. It's going to run much faster than your old one ever could.
That doesn't mean the computer won't show problems after a few weeks. That's why it's a good idea to register for your warranty as soon as you take the device out of the box.
That's not the only thing that you've got to do after opening your laptop. There's a long list of setup procedures that are necessary for the best user experience. Keep reading to learn more about how to get your computer up and running.
After Unpacking My Brand New Laptop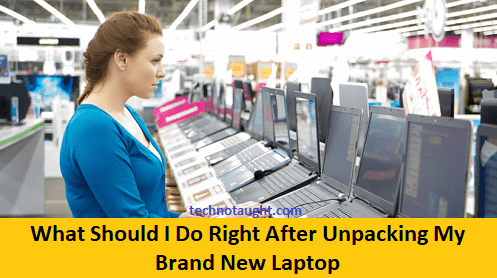 1. Look Inside the Box
When you take the time to check prices and do research to get the best laptop that you can buy, the only thing you want to do is take it out of the box and start setting it up. Before you play with your new toy, it's important to look inside the box.
You don't want to get your computer ready to go, only to realize that the warranty information or power cord is missing. Look over every inch of the packaging. If something important isn't there, take the laptop right back to the store.
2. Register for the Warranty
Most computer industry leaders include a warranty. The thing is, you're the one that has to set it up. Go on the manufacturer's website.
There should be a tab that will direct you to the page you need to go to register your product. You're going to need the laptop's serial number, the vendor name, and the model number. The reason why you want to start this process right away is that you'll also have to input the purchase date in some cases. The longer you wait, the easier it will be for you to forget the exact
day.
After you've finished setting up the warranty, print off the confirmation page and keep it somewhere you won't lose it.
3. Update the Operating System
If you purchased a computer right at its release, you can ignore this step. If buy an older computer, however, it's going to be running an older operating system.
You'll need to update it if you want to take advantage of all the features your new laptop has to offer and keep it secure. Updating is easy, no matter what operating system you're using.
For Windows, you're going to head to the Settings menu. From there, you'll click on "Update & Security," followed by "Check for Updates."
If you're running the Mac OS, you'll click on the apple symbol in the top corner of your screen to get to the settings menu.
4. Remove the Bloatware
All computers come with something known as bloatware. It's pointless programs that do nothing but take up space on the device. You're never going to use them.
Navigate to your control panel and go to the "Programs and Features" tab. If you see any strange software that you don't remember installing, you can delete it.
If you're scared you'll delete an important program on accident, you can download a bulk uninstaller. It will locate your bloatware for you and get rid of all of it in one swoop.
5. Snag Antivirus Software
Don't even think about browsing the internet on your brand new computer without first downloading antivirus software. Your laptop will come preloaded with programs such as Microsoft Defender.
It's a pretty powerful feature, but it needs backup. Third-party programs can protect you against threats that are not included with Microsoft Defender, such as ransomware and spyware.
Antivirus software will also periodically run scans on your computer to check for malicious programs. Keep in mind that it can't do any of this unless you keep it up to date.
It's recommended that you perform a virus scan at least once a week. You can check the program for updates during this time as well.
Read more: – How to remotely access pc from android phone
6. Adjust Your Power Settings
After a few hours of using your computer, you'll find yourself searching for a power outlet. Unless you play around with your battery settings, it's not going to last for as long as advertised.
The biggest thing that will drive your battery life down is your screen brightness. Knock it down a few notches to get some valuable computer time.
Chrome is a great browser and all, but it can be a battery hog. You may want to pick a different one to be your default browser. You should also consider playing around with your sleep settings.
7. Get the Anti-Theft Tools up and Running
All it takes is for you to leave your computer alone for five minutes for someone to take it. As soon as they log in, they'll have access to all your personal information.
The good news is that there's an easy way to locate your device after someone picks it up or you lose it. Every laptop has anti-theft tools.
On Windows, go to the Settings menu and click on "Update & Security," followed by "Find My Device." As soon as you turn the feature on, you'll be able to locate your laptop using your Microsoft account.
Turning on the anti-theft settings on your Mac works sort of the same way. Go to the Apple menu and navigate to your System Preferences.
Click on "Apple ID" and look over at the sidebar. You should see an iCloud option. Select it and check for the "Find My Mac" feature.
There might be a details button beside it. Click on it and if "Find My Mac" isn't enabled on your device, enable it. Now you'll be able to find your computer using your Apple account.
8. Set Up Your Account
When your computer boots up for the first time, it's going to walk you through the setup process. Here you'll come up with a user name that you'll see every time you log into your computer.
It will also prompt you to create a Windows or Apple account. Go ahead and do that if you don't already have one. Create a powerful password that you can remember and connect your computer up to your wireless network.
9. Create an Automatic Backup
You've been working on a project for a few hours now when your computer decides to suddenly turn off and update. When it comes back on, the entire project document is blank.
Now you're going to miss your deadline. Your professor isn't going to be happy. To prevent this problem from happening again, set up automatic backups after you take your laptop out of the box.
It will allow your computer to save your work every few minutes. You'll still have access to your important projects no matter what happens to the original file.
10. Cloud Storage Syncing
Going off our point from above, it's wise to sign up for cloud storage syncing. There are many programs out there that can suit this purpose, such as Google Docs and Dropbox.
Saving documents to these programs will give you a backup in the event that something happens to the original file. That's not the only reason why they're neat to use, though.
You see, all you need is your cloud account information to bring up your files. That means you can work on a project on your main computer, save it, and start over where you left off on your personal laptop later.
Read more: – 10 Major sign You Need Dedicated Server Hosting
11. Customize Your System Settings
The last thing you're going to do is customize your system settings. This is where you truly make your new laptop yours. You'll pick out a wallpaper.
You can also edit your taskbar to be more relevant to your needs and play around with your system's theme. After you're done with all of that, it's time to download your apps.
You'll find most of what you need on the Google Play Store or Apple Store, depending on what system you're using. Once you have all the programs you want downloaded to your device, log in to each one and play around with the settings if you need to.
Read more: – 9 Tips for Optimizing Your Video Streaming Experience
Get Your Brand New Laptop Ready to Go
As you can see, there's a lot more to buying a brand new laptop than turning it on and getting it set up. You've got to play around with your system settings.
You should never browse the web without having some kind of antivirus software, and having backups enabled is a must if you don't want to lose your work.
Are you looking for more tips that will help you make the most out of your new device? Feel free to explore the rest of our blog for all the latest technology news and tricks.